Angie's Recipe of the Day: Sausage-Stuffed Mushrooms Recipe
Angie's Recipe of the Day: Sausage-Stuffed Mushrooms Recipe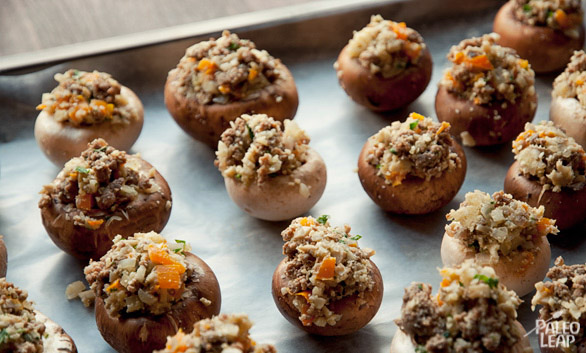 Ingredients
20 large button mushrooms;
1 lb. sausages, casings removed;
1 onion, thinly chopped;
½ bell pepper, thinly chopped;
2 cloves garlic, minced;
2/3 cup almond meal;
2 tbsp. fresh parsley leaves, minced;
2 tbsp. olive oil;
Sea salt and freshly ground black pepper;
Preparation
Preheat your oven to 325 F.
Remove the stems from the mushrooms. Chop the removed stems finely and set aside.
Toss the mushroom caps in a bowl with the olive oil, and set aside.
Melt some cooking fat in a skillet placed over a medium heat.
Add the sausages to the skillet and cook for 8 to 10 minutes, while breaking them apart into tiny pieces with a wooden spoon.
Add the chopped mushroom stems, onion, bell pepper, and garlic to the sausages, and cook for another 5 minutes.
Add the almond meal and stir until well combined with the other ingredients. Remove from the heat.
Add the parsley; give it a good stir, and season to taste with salt and pepper.
Fill each mushroom cap with a generous amount of the sausage mixture.
Line all the stuffed mushrooms on a baking sheet, and place in the oven.
Cook for about 40 minutes or until the stuffing is browned and crusty.
Remove from the oven and serve while warm.
 MAKES: 20 PREP: 15 min. COOK: 1h.
Recipe Courtesy of paleoleap.com